Digital literacy, Cambodian entrepreneurs and women empowerment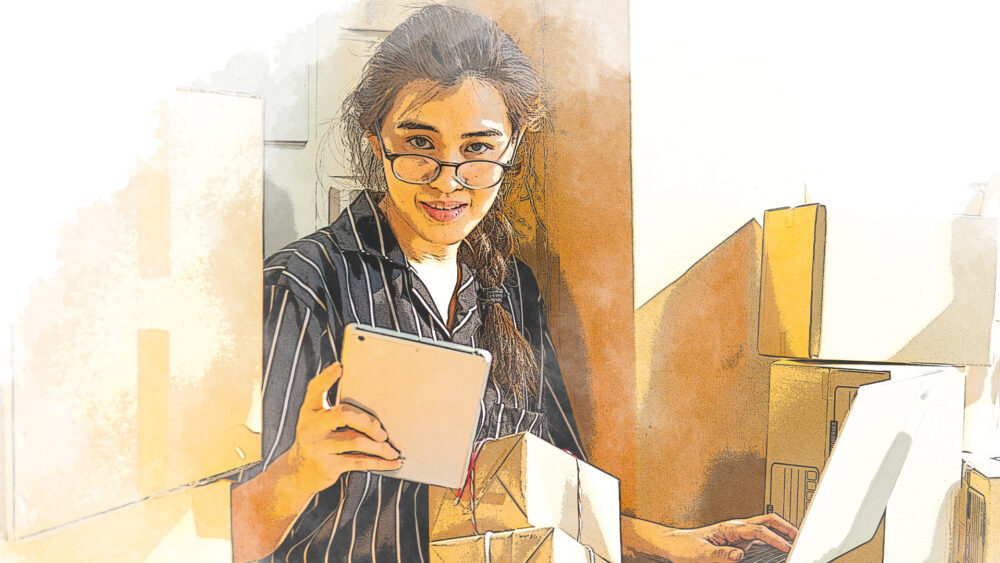 Local non-profit SHE Investments is using digital literacy training as a way to support small businesses in Cambodia and empower women entrepreneurs across the country.
International news stories about digital transformation are often dominated by a few big names – Meta, Twitter and Apple are all well represented in daily headlines and media coverage. But one of the most influential impacts of these digital technologies is the ability they provide for small businesses and independent operators to access markets and target audiences that were previously well beyond their reach.
In Cambodia, where micro, small and medium enterprises (MSME) represent 70% of employment, 99.8% of businesses and account for 58% of GDP, the importance of equipping these entrepreneurs with the skills to take advantage of digital tools is undeniable. With 61% of Cambodian MSMEs run by women, this becomes more than an economic issue; it is a strategy to empower women across the country.
One group working towards this crucial goal is Phnom Penh's SHE Investments.
Built on a vision of creating an ecosystem that allows women entrepreneurs to operate and scale their businesses in ways that elevate communities, SHE Investments supports women through a host of different programs. From incubator and accelerator projects to networking events and financial literacy training, SHE investments is laying a foundation for women entrepreneurs across the country. Digital tools are essential to much of the group's work.
We sat down with Lydeth Hun, the group's Digital Products and Communications Leader, to talk about digital transformation, women empowerment and what to expect from Cambodia's MSME's landscape in the coming years.
SHE Investments is a social enterprise that is building a gender-inclusive ecosystem to enable women entrepreneurs in Cambodia to scale their businesses and create economic, social and environmental impact. How does technology play into this work?
Technology has disrupted every way of living including how people operate their businesses and, in fact, it increases efficiency and competition. In response to the current needs of entrepreneurs, we have reviewed and introduced our new 3-year strategic plan, which focuses on three thematic areas: Breaking down the barriers to appropriate finance, unlocking digital potential and being impact-driven.
In 2021, we introduced a bookkeeping app, Kotra Riel, to empower digital adoption of how entrepreneurs manage their daily financial records by shifting from using paper to technology. The app is currently integrated into our flagship incubator, accelerator, and financial literacy training, as well as being open for public use free of charge.
MSMEs operate across a number of industries, from food and beverage vendors to motorcycle mechanics and transportation services. What are the most useful digital tools for these MSME operators and how do they benefit their businesses?
Ecommerce or e-marketing has created new selling channels and can provide new business opportunities, creating more potential for online sales and a larger market share. Such platforms also enable them to learn more skills that they can leverage for business growth, such as being aware of income, uploading menus and managing sales.
Social media in general is the most go-to platform as it's free and flexible. They can control the content while speaking directly to their customers. This kind of channel doesn't require a lot of skill and is attractive to micro-enterprises.
Bookkeeping apps like Kotra Riel or basic fintech can help businesses to understand their income and expenses, enabling them to make better plans for business growth and access to capital in the form of loans.
Besides the economic benefits that technology can provide women entrepreneurs, how can digital literacy serve as a means of women empowerment?
Digital literacy plays a part in closing the gap, building their capacity, and increasing women's confidence in the long-run as they can find the tools that meet their needs.
We see that when women are equipped with the right knowledge they feel empowered, which has ripple effects on both their business management and level of financial decision-making in the household. These women become role models that speak up for other women.


The digital transformation is taking place around the world and impacting economies large and small. What do you think could be the impacts of increased digital uptake in the MSME landscape on the broader Cambodian economy?
The digital uptake will increase productivity and overall wellbeing for businesses and individuals. In fact, it has a positive influence on job creation, growth and innovation as well. It enables businesses to increase income and expand from a small operation size.
In one of our endline surveys from a digital literacy program, it was demonstrated that digital literacy is a factor in driving changes in the economy and the well-being of the MSMEs.

This digital transformation has been in key alignment with Cambodia's vision of becoming an upper middle-income country by 2030. Every stakeholder is working within the ecosystem to achieve this, from on-the-ground efforts to a policy level.
Your group works with many of these women MSME operators in a number of capacities. Looking forward, what are your hopes for these women entrepreneurs and what role will digital tools play in this vision?
Moving forward, our mission will remain the same: supporting women micro-small entrepreneurs to scale up and create long-term social, environmental and economic impact for people and communities. To help them build a strong foundation and create room for growth, investments and opportunities regardless of their background and social class.
However, with the added value of digital tools, we are reinforcing how improving the knowledge and confidence of women entrepreneurs in this area will create an even better enabling environment for the women to thrive, break the bias, contribute more, speak up and improve overall outcomes for women and the economy in Cambodia.
Reference :
SME In Service And Trading link;