A closer look at the Cambodian e-commerce landscape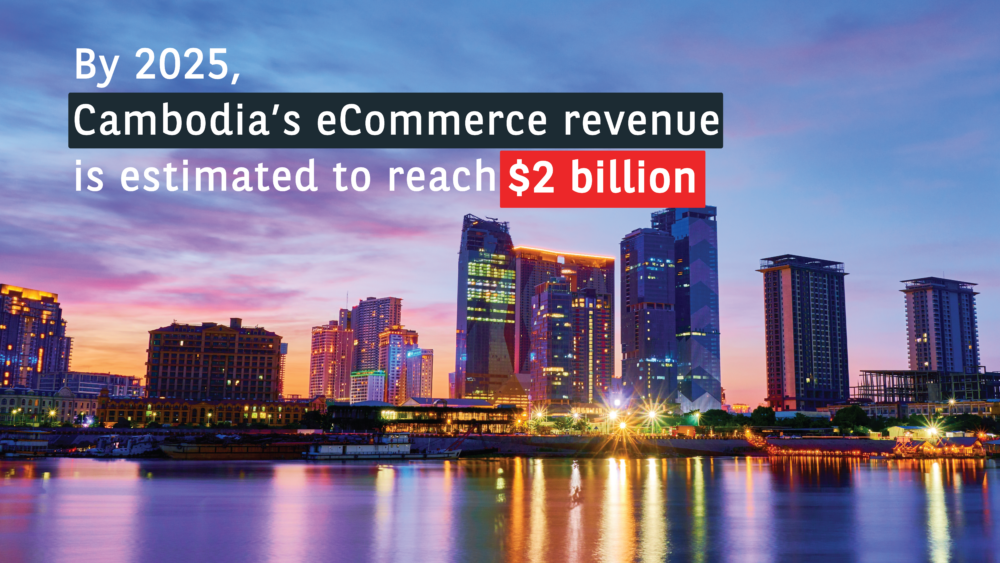 COVID-19 has had a huge impact on people's lives all throughout the world, including Cambodia. Cambodia has to embrace the digital revolution, particularly in trade and commercializing operations, with the enforcement of strict lockdown measures and social distancing regulations. This has resulted in a significant development in Cambodia's e-commerce business, which is popular among consumers of all ages. According to the Ministry of Commerce spokesperson, Mr. Penn Sovicheat, Cambodia's e-commerce sector is estimated to generate $1.78 billion in revenues by 2025.
Let's look at the Cambodia e-commerce market situation in 2023 and what everyone should know so you can be prepared and plan your next marketing move. Or if you are attempting to break into this thriving sector!
Cambodians' perspective toward their online shopping behavior in the present day
We would define it as "easy and convenient!" Online buying in Cambodia has never been easier, particularly during the bitter/sweet era of COVID-19. According to a poll conducted by the Confluences team of 1000 Cambodians released in 2023, about 30% of Cambodians report doing their shopping online numerous times per month. The current shift in consumer preferences has increased the kingdom's need for e-commerce platforms and services. Not to mention the quick rise of the internet and the great majority of Cambodians aged 35 and under owning smartphones.
The convenience of digital or online payment, which is quick and easy to use, fosters the online shopping lifestyle embraced by younger Cambodians. Since the epidemic, 32% of Cambodians have decided to emphasize digital banking practices as their preferred form of payment, and this number is expected to rise further. When compared to the previous year, this reduced the flow of physical cash consumption by 22%. Cambodians love digital payment methods and would prefer to go cashless as much as they can (through QR codes and e-wallets) to make sure their society is more hygienic, efficient, and environmentally friendly.
Older Cambodians, on the other hand, still prefer traditional market shopping to this new digital activity.
What factors could persuade Cambodian customers to make an online purchase?
Cambodia's online economy is one of resourceful and inventive domestic infrastructure development and innovative infrastructure growth. 66% of Cambodian e-commerce shoppers prefer to make an online purchase from a brand they know; TikTok, Facebook, and Instagram could serve a significant role in this market. Moreover, since social media is their 'go-to particular seeking site, consumers will spend plenty of time learning more about any product brand before making a purchasing choice. Creating multiple kinds of content marketing for the business's exposure while developing an easily accessible online purchasing journey could assist a lot in guiding the consumers' view into having an impressive brand presence within the platforms, resulting in tremendous advantages for your business revenue.
Learn more about some of the issues that Cambodian e-commerce customers confront
Let's identify what has been bothering Cambodians' thoughts to decide not to make a purchase online or that one consumer has never become a returning customer. The consumer report states:
"The lack of customer protection policy" resulted in over 36% of buyers being concerned about the refund/product return policy.
More than 34% are concerned about the product's "payment options".
While more than 32% are worried about "delayed/slow delivery" and "product safety and security".
"No guarantee of product quality" reached nearly 29% in the survey report, indicating that no one wants to acquire a product that turns out to be unreliable.
Furthermore, around 25% of consumers express worry about falling victim to any "false advertising" strategy across platforms.
References:
Consumer Report - Cambodia 2023 by Confluences,
The Diplomat: Cambodia's Unique Version of E-Commerce,
ITA: Cambodia eCommerce,
Chan, R. (2022) - An analysis of Cambodia's e-commerce and way forward. Journal of Management, Economics, and Industrial Organization, 6(3), 88-100,
Khmer Times: Cambodia's e-commerce market eyes $1.78B by 2025